NOAA Atlas 14 Cartographic Maps of Precipitation Frequency
Estimates for Selected Frequencies and Durations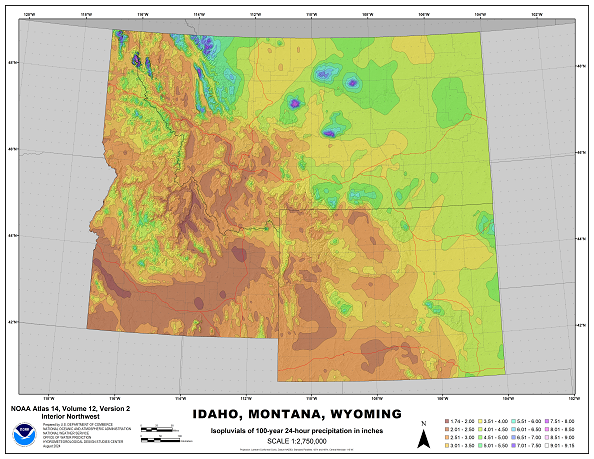 Cartographic map example.

This web page provides access to NOAA Atlas 14 cartographic maps of precipitation frequency estimates in the PDF format for selected average recurrence intervals (ARIs) and durations (shown in the table below). We recommend that these maps are used as visual aids only. Precipitation frequency estimates can be obtained from the high resolution grids available from the PFDS interface. See corresponding NOAA Atlas 14 document for more details.


ARI

Duration

(years)

60-min

6-hr

24-hr

2-day

10-day

30-day

60-day

2

√

√

√

√

√

√

√

5

√

√

√

10

√

√

√

25

√

√

√

50

√

√

√

100

√

√

√

√

√

√

√

<![if supportMisalignedColumns]> <![endif]>
State:
Average recurrence interval:
Duration: